CIPSA
CIPSA is an acronym for a now defunct Mexican company, Compania Industriale de Plasticos SA that produced an array of plastic products from toys to housewares.
The CIPSA factory is reported to have been destroyed in a catastrophic fire sometime in the mid 1970's, ending all production under the CIPSA name.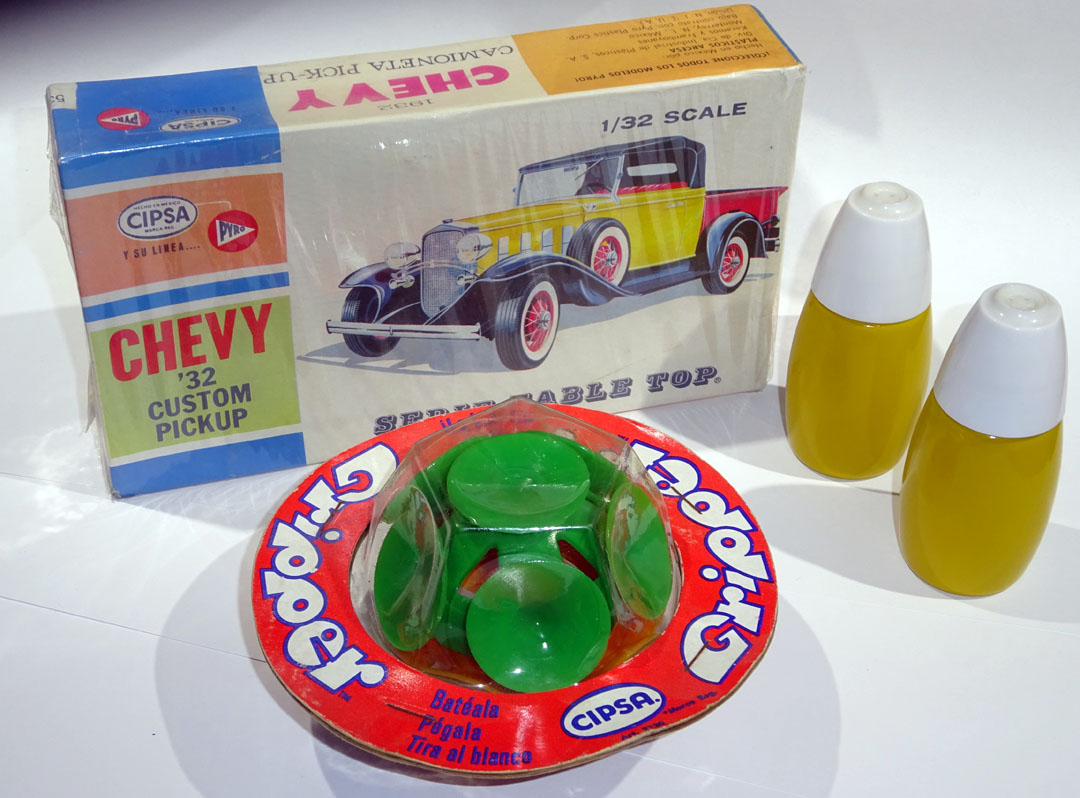 Various CIPSA Products
Under license, CIPSA produced many Mattel products for the Mexican marketplace crossing several product lines including "Big Jim", "Barbie" and "Hot Wheels".
Products in the Hot Wheels line include Sizzlers, Rrrumblers, Hot Shots as well as Hot Wheels die cast cars and track sets accessories, even the ubiquitous Wheel case.
This page focuses on those redline era die cast Hot Wheels cars produced by CIPSA in Mexico under license by Mattel.
Early Hints
A few unusual redline cars had shown up over the years that were purported to be of Mexican origin, most notably, a few Snake and Mongoose Funny cars in odd colors.
A well known collector in Minnesota had a pair in red/orange and purple. Another collector in Canada had a Snake Funny car in green, with the CIPSA logo on the stickers.
The Minnesota collector also had a pair of Rear Engine Dragsters in odd colors. In the same time frame another poor condition dragster surfaced in southern California.
All of these cars were in unreleased paint colors but showed no outward signs of Mexican origin.
Some of the Early CIPSA's
Another peculiar example that surfaced on two occasions is the Classic Cord, painted in mustard yellow enamel with white interior. The first was shown about at the 2001
Hot Wheels Convention in Irvine, California. The collector also had a red Odd Job with blackwalls, claiming to have found both of them at a swap meet in San Diego, CA.
Many very experienced collectors scrutinized those two cars, however no consensus emerged on the authenticity or origin of the two mysterious cars. The second Classic
Cord was shown at the 2003 Convention by Jack Kaye, respected collector, who found his gem at a swap meet also in San Diego.
It is notable that the existence of these oddities was not widely known among the Hot Wheels collector community. Some of the leading authorities had declared them to be
fraudulent and although the logo of CIPSA was clearly visible on the stickers of two of the Funny Cars and one of the Rear Engine Dragsters, no one had otherwise heard
of the company or its products so the mystery of the unusual cars remained unsolved.
The CIPSA Explosion
After more than 30 years, CIPSA redlines were still virtually unknown. That all changed on April 4, 2004 when a guy posted an inquiry on the leading internet site,
Redlines On-Line, about an unusual Superfine Turbine, owned by his cousin in Mexico. He was curious because it was a variation not listed in any price guides; an odd
yellow/orange color with white interior.

Photos posted on Redline's Online by Jaguar9
Subsequent posting of actual photos by "Jaguar9" escalated the discussion into quite a controversy over the authenticity of the car and its origins. Many knowledgeable
collectors declared the car to be a fraudulent while others believed it to be genuine. The "Tempest in a Tea Cup" did not last very long as within six weeks, a complete
sealed CIPSA blister pack was listed on eBay, eliminating any doubt. Within a year or so, the discovery of CIPSA catalogs and other Hot Wheels related products added to
the validation of the CIPSA story.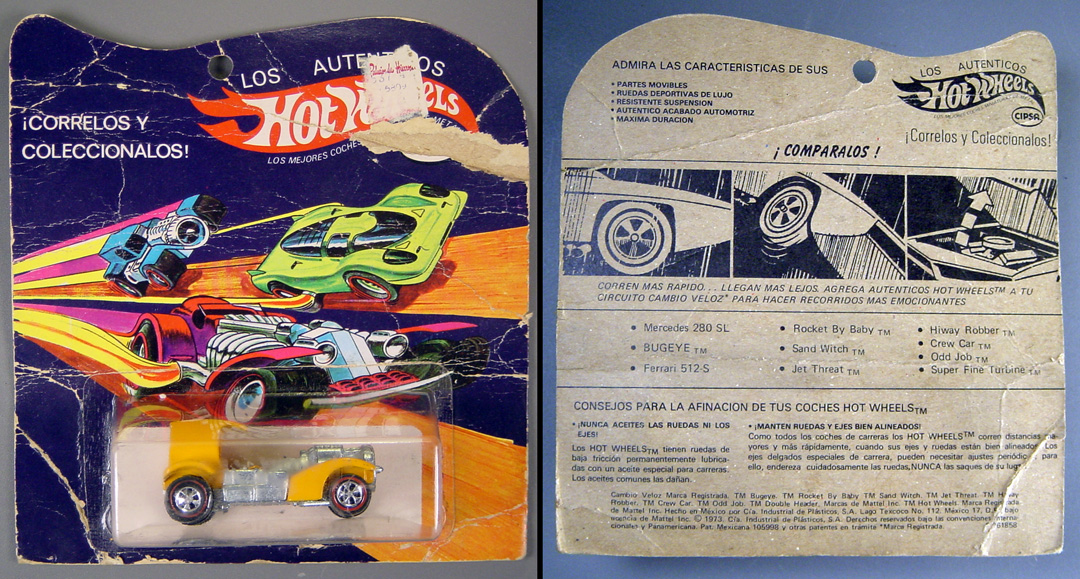 CIPSA Blisterpack
Throughout 2004, there were a dozen or so auctions of various new and unusual redlines, boxed CIPSA track accessories and lots of CIPSA Sizzler stuff. Additional
discoveries included three catalogs which show that CIPSA was likely quite active in the production of diecast Hot Wheels, Sizzlers and accessories for both product lines.
Documentary Evidence of CIPSA Production
Direct evidence for what may have been produced is found in the three known CIPSA Toy Catalogs, the back of the CIPSA blister pack and from the few surviving track sets.

1971 CIPSA Catalog Page
The small in the center panel from the 1971 catalog lists four castings which are all releases from Mattel's 1970 model year. Oddly, the catalog from 1972 does not cite
any reference to die cast cars, or other information for any production of track sets, only Sizzlers, Rrrumblers and Hot Line trains.

1973 CIPSA Catalog Page
The 1973 CIPSA catalog page shows ten different castings, most of which are 1971 model year castings except for the Rear Engine Dragster which is from from 1972.
It is noteworthy that all of the cars on these two pages are shown in their normal spectraflame or enamel colors. These 10 new castings brought the total documented
production to 14 different castings shown or listed in catalogs.

List of Castings on the Back of the Blisterpack
The Blister Pack that contains a Superfine Turbine is dated 1973. However, it is likely that the copyright year precedes the issuance year as is common on Mattel's
blister packs. Thus the CIPSA package is likely from 1974. The back side of the blister pack card lists ten more castings, nine of which were either 1973 main line
castings or Shell Promo castings, the exception being the Pit Crew Car from 1971. Combined with the 14 cars documented on catalog pages, these ten brought the total
of documented CIPSA produced models to 24 different castings.

Panels from the Super Circuito Diabolico Box
The box of a track set, the Super Circuito Diabolico, dated 1975? provides direct evidence for two additional castings, the Mustang Stocker and the Porsche P-911 which
are both 1975 releases.
Together, these sources provide direct evidence that CIPSA intended to offer at least 26 different castings. However seven more castings are known, all from 1969 or 1970.
Snake II Funny Car
Mongoose II Funny Car
Hairy Hauler
Mantis
McLaren M6A
Mighty Maverick
Swingin' Wing

Of these 7 castings, only the McLaren M6A has any documentary evidence of being produced by CIPSA, that being the remnants of a sticker sheet in Spanish, even though no
confirmed example the car has been found yet.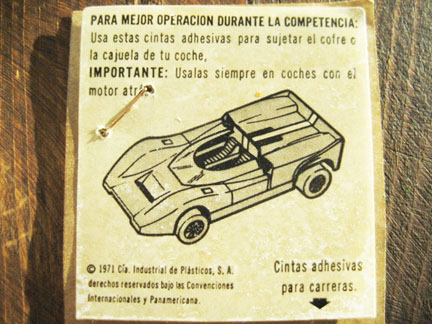 McLaren M6A Sticker Sheet en Espagnol
Based on the variety of accessories and track sets that are documented in the catalogs, it is postulated that these seven cars are "set" cars from yet unknown CIPSA
versions of various track sets such as the Snake and Mongoose drag strip sets and Rod Runner sets. It is postulated that these unidentified castings represent the
product release for CIPSA's 1972 model year. The addition of these seven known castings bring the total casting number to 33 different castings.
No other castings have been found in the more than 10 years that CIPSA first became widely known to the world wide Hot Wheels collector community .
CIPSA Production
Based on all of the information, it appears that there were five different waves of CIPSA production of diecast redlines.
First Wave (1971)
The six panels in the 1971 catalog page show cars and sets which date from 1970. It specifies four castings and illustrates them in the various track sets.
Porsche P917
Ferrari 312P
Peeping Bomb
Whip Creamer

Second Wave (1972)
Even though there are no diecast cars shown in the 1972 catalog, it is likely that these seven undocumented castings were produced that year. Athough
the Snake and Mongoose castings date from 1970, the stickers are from the 1971 version of Snake II and Mongoose II which supports that contention.
All of these cars share the "metal flake" paint colors that are found only on these castings. Thus 1972 seems to be the "Metal Flake" year.
Snake II Funny Car
Mongoose II Funny Car
Hairy Hauler
Mantis
McLaren M6A
Mighty Maverick
Swingin' Wing

Third Wave (1973)
The bottom panel on this catalog page show ten castings, all from the 1971 or 1972 model years.
Every casting knownfrom this wave features a bright color and the stark white interior. All of the "mustard yellow" cars are in this grouping.
Cockney Cab
Six Shooter
Sugar Caddy
Mod Quad
Classic Cord
Carabo
T42
Side Kick
Seasider
Rear Engine Dragster (Snake & Mongoose)

Fourth Wave (1974)
The back of the CIPSA Blister pack shows a copyright date of 1973 blister pack, therefore is it likely that the card and the cars were actually issued in 1974.
The Fourth Wave is characterized by mostly enamel paints and a wide variety of wheel types.
Mercedes Benz 280SL, 1973
Bugeye, Shell version
Ferrari 512S, Shell version
Rocket Bye Baby Shell version
Sand Witch 1973
Jet Threat, Shell version
Hiway Robber, 1973
Crew Car, 1971
Superfine Turbine, 1973

Fifth Wave (1975?)
The only cars in the fifth wave are the two cars from the Super Circuito Diabolico set. Both castings date from Mattel's 1974 model year.
Mustang Stocker, 1974
Porsche P911, 1974
---
All CIPSA diecast cars show USA or Hong Kong as the country of origin on the base of the cars. If a car has a circular "Hecho en Mexico" symbol, it is an Aurimat, NOT CIPSA.
A plausible explanation is that Mattel supplied CIPSA with stock of various raw castings and the tools for making the injection molded plastic parts. CIPSA made the plastic parts locally,
then assembled and packaged the cars themselves. This would explain the absence of any reference to Mexico as the Country of Origin on the diecast bases of the cars.
The poor quality of the "spins" on Waves 3 and 4 production pieces suggests that CIPSA had only "makeshift" tooling for final assembly of the cars after Wave 2.
Wheels
Four different wheel types are found on CIPSA cars.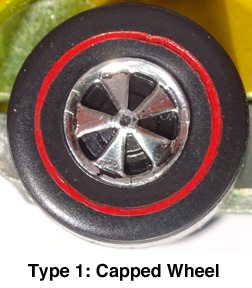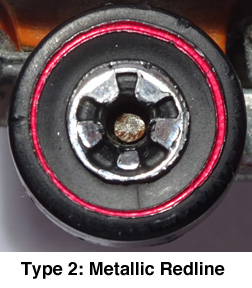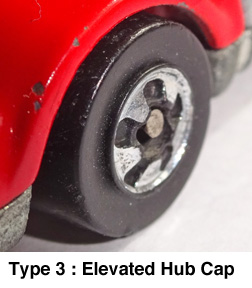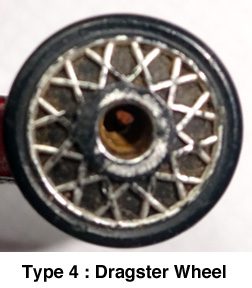 Type 1 is identical to the standard Mattel "capped wheel" and are found in two sizes.
Type 2 is a "through hole" design with a red stripe, but the red stripe is implemented using a metallic foil vs. a red paint. These also came in two sizes.
Type 3 is a "through hole" design with NO red stripe at all, note the convex shape of the tire, the hub is also elevated unlike any Mattel wheel, two sizes.
Type 4 is the standard Mattel dragster front wheels found on the normal Rear Engine Dragster casting, black only, no clear.F
Type 1 Capped Wheels are found on every casting and car throughout production Waves 1, 2 and 3. Only in Wave 4 and 5 are there variations in the utilization of wheel types.
The utilization of wheel types in Wave four has no consistency. Some castings such as the Jet Threat and Hiway Robber have been found with all three wheel types.
Other castings, such as the Mercedes Benz 280SL have only been found with Type 3 black walls. A few Rear Engine Dragsters are known with Type 1 capped wheels in
the front instead of the normal Type 4 dragster wheels. One possible explanation is that Mattel provided an initial supply of the capped wheels and axles and when those were exhausted,
CIPSA began making their own "through hole" (Type 2) wheels. Since they were on their own for hot stamping the red stripe, they used whatever process they had available,
eventually omitting the hot stamp process entirely leaving the wheels as blackwalls (Type 3) such as those found on the Odd Job and Mercedes Benz 280 SL.
The two castings in Wave 5 are Type 3 wheels but the chrome on the hubcap has been omitted.
Paint Colors
This chart summarizes the paint colors, wheel types, glass and interiors of the 33 different castings as of 2018.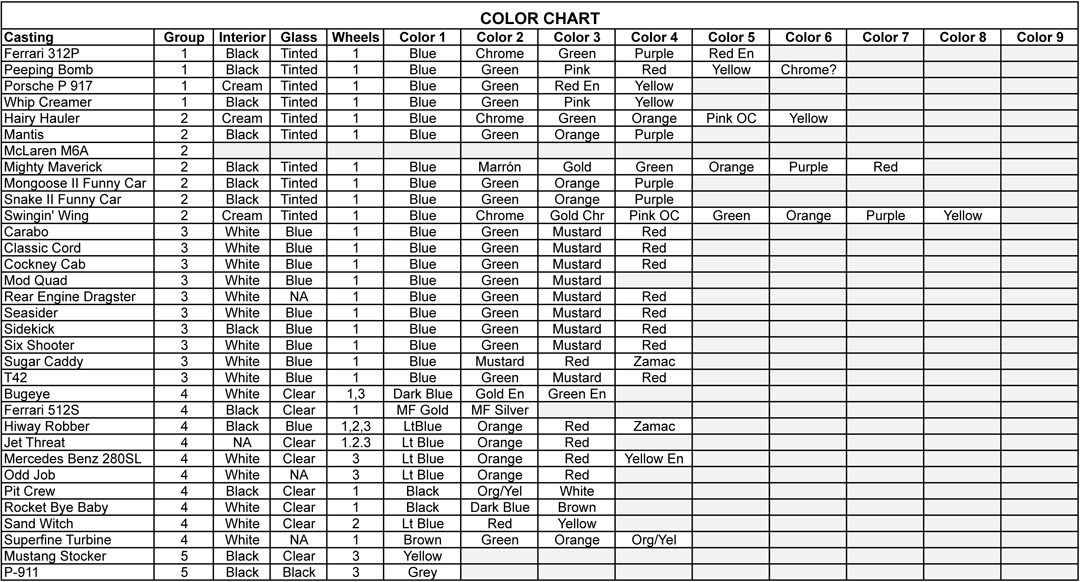 Wave 1 featured five different Spectraflame type paints for most of the production. The Ferrari and P917 were made in an enamel red and a few have been found chrome plated.
Wave 2 featured mostly Metal Flake type paints plus an enamel orange enamel color. A few chromed pieces are also known and very few are painted over chrome.
Wave 3 is characterized by a return to 3 different spectraflame looking colors and the signature "mustard" enamel color. All ten castings have been found in the mustard color.
Wave 4 sees the introduction of a set of different enamel colors including black, white and others.
The two Wave 5 cars are painted in new enamel colors.
Interiors
Wave 1 and Wave 2 cars mostly have a black interior but three of the castings are found with a light cream colored interior. All castings had one or the other, not both.
Wave 3 cars are all a bright white interior except for the tailpipe piece on the Sidekick. Wave 4 castings have a mix of black and white, again, one or the other, not both.
The two Wave 5 cars both have black interiors.
Packaging
Not too much can be said about the packaging of CIPSA cars as there is only two known examples of a CIPSA blister pack to have survived. The physical size and shape of
the card in unlike any Mattel card. The blister is thicker and has some molding marks on the front. The list of ten castings on the rear of the Superfine Turbine card
certainly suggests that those castings would have been produced on a similar card.
I suspect that all first waves cars and other early castings such as the Snake and Mongoose Funny Cars were "play set" cars, released only in track sets. As such, they
may never have been sold in individual blister packs. Tin buttons have only been found for cars in Waves 1 and 2.
Commonalities
An analysis of the cars and colors in each model year, reveals some commonalities that are useful in identifying a CIPSA from a non-CIPSA.
Wave 1, the 1971 model year:
Black Interiors except for the P917
All Capped Redline wheels
Normal looking rivet spins
Hand painted highlights and trims
Four Spectraflame paints in unique colors

Wave 2, the 1972 model year is similar to Wave 1 in many respect except that Spectraflame style paints changed to a metal flake style paint.

Introduction of light colored interior in a few more castings
All Capped Redline Wheels
Normal looking rivet spins
Five Metal Flake paint colors

The 1973 model year, Wave 3, sees a host of changes in paint colors and interiors:

Prominence of the bright white interiors
All Capped Redline Wheels
Blue glass is prominent vs. tinted glass
Odd colors of paint, all 10 castings made in mustard yellow enamel!
Crude spin jobs on the rivet/posts, indicating tooling problems

The 1974 model year, Wave 4, sees a lack of consistency in many aspects:

A mix of bright white interiors and black interiors
Most glass is now clear, but not all
No consistency in use of wheels
Crude spin jobs on the rivet/posts continues

The 1975 model year, Wave 5 is just the two castings, all which are consistent.
Rarity
As of December 2005, only fifty-seven (57) bonafide CIPSA made redlines had been confirmed and only one blister pack was known.
As of late 2012, the number of individual pieces was estimated to be between 250-300 pieces but most were in poor condition and still only one blister pack was known.
In 2012 or so, the CIPSA Registry section of this website was initiated to document each and every known CIPSA Diecast car.
In 2014, a second blister pack was found in Germany but it had been opened. The car, a red Odd Job and the BP are in excellent condition.
Toward the end of 2016, the count in the CIPSA Registry stands at about 550 individual pieces including many that are in the hands of Mexican collectors.
These numbers alone make these cars among the rarest of all Hot Wheels, especially since most are in poor condition.
Credits
Thanks to: Mike Stephenson, Juan Miguel Alcantar de Alba, Chuck Gaughan, Jack Kaye, Jon Schwartz, Mark Lewis, Vito Mercorillo, Mike Otte,
Gil Becerra, Al Rasmusson, Antonio Lara, Sid Mailhes, Sid Belzberg, Alvaro Lopez, Ricardo Saavedra, Dean Foyl, Scott Jones,Marco Garcia,
Midir Trejo and of course Alphonso Martinez
Article, information, photos posted with permission 
Questions?…Cars for sale??…
Preguntas?…Coches en venta??…
Send an e-mail: tngray@nautiloid.net