Celebrating a half century in 2019, and winning fans with speed and attention to detail!
Johnny Lightning, a die-cast car brand commemorating 50 years in 2019, may have started as a perceived Hot Wheels copycat, but, in later years, would blow the market wide open for nostalgic subjects rendered in die-cast.
The brand, launched by Topper Toys (a division of Deluxe Reading of Elizabeth, New Jersey), started in 1969, surely a response to Hot Wheels' feverish reception in 1968. The models themselves were largely based on popular production cars at the time—Camaro, Charger, Mustang, Toronado, and the like, with wild nose and tail treatments. Bodies and chassis were die-cast metal. JLs were widely looked upon as aping Mattel's ultra-successful Hot Wheels models, with their piano-wire axles, bushed wheels, and emphasis on speed instead of outright detail. (Early JL models also sported opening features and translucent paint over a polished body for an eye-catching finish.) Company owner Henry Orenstein would disagree with the copycat assessment, instead asserting that it was common practice to improve on existing concepts.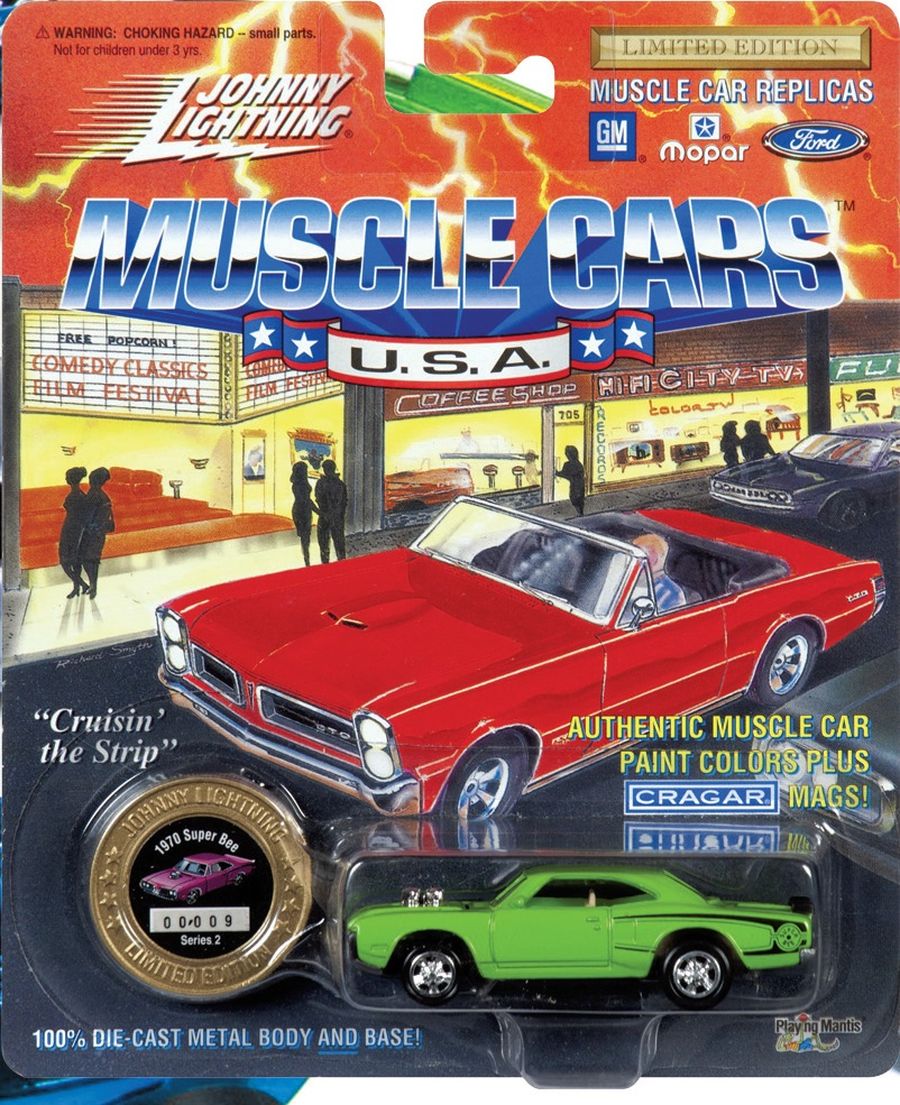 An original Muscle Cars USA release from 1995 that launched Johnny Lightning into the stratosphere once again.
Those improvements seem like mere details today, but they were a big deal to speed-crazed boys who needed the fastest car on the track. Wheels were made of Celcon plastic, which, compared to other plastics used in the toy industry, kept its shape without being brittle. They attached to bushed piano-wire axles that were lubricated with whale oil. Chassis featured a small eyelet, called an Accelerator Loop; this was compatible with Topper's closed-course track sets, which would feature a launching arm (or "actuator") that would come up out of the floor of the track at the press of a button. When the actuator caught the car's accelerator loop, it flung the cars forth at a great rate of speed; it required some skill to catch things just right so that your car would have the oomph to make it around the track. JL models also tended to be heavier than a comparable Hot Wheels, making them faster in a downhill gravity race; this led to the phrase "Beats Them All!" appearing on the front of the package.
While Hot Wheels nurtured its orange-track reputation by sponsoring the Snake and Mongoose match-race funny-car combo, Johnny Lightning chose to emphasize both its speed and its closed-course prowess by sponsoring an open-wheel car that raced at Indianapolis. And what an image booster it was! Parnelli Jones' team, Al Unser's hot foot, and Johnny Lightning's name all over the car made for an unbeatable combination, winning back-to-back Indy 500 races in 1970 and '71. It was a strong enough marketing tie-in that Topper was selling one Johnny Lightning car for every three Hot Wheels sold.
But despite the publicity and sales, 1971 would prove fatal to Johnny Lightning. Orenstein looked to take Topper public but failed; troubles encountered during filing forced Topper into bankruptcy. Just 47 Johnny Lightning models were created in the Topper era, despite many more being announced in the catalogs of the day. The Johnny Lightning name faded into memory.
Fast-forward to the early 1990s. Thomas Lowe of Cassopolis, Michigan, had been laboring in the kids' products and toy industry. Young Thomas was a boy when the original Johnny Lightning models were released, and an early- '90s purchase of some vintage examples (spurred by a magazine article proclaiming '60s and '70s boys' toys as hot collectibles) led him to recall his own childhood collection. His entrepreneurial spirit was bred into him—his father, Edward Lowe, singlehandedly invented the market for kitty litter (Fuller's Earth). A quick trademark search showed the Johnny Lightning name had long been abandoned, and so his own company—Playing Mantis, which had recently made connections with Hong Kong-based manufacturing agents—snapped up the trademark.
Playing Mantis relaunched Johnny Lightning in 1994; it became the first line of 1/64-scale models to be successfully marketed to adults. Others were first to market: Matchbox and Majorette both previously launched adult-oriented lines, with varying degrees of success. But Playing Mantis-era Johnny Lightning models traded on childhood nostalgia before the competition. The initial models were patterned after Topper's early output— designed to tug at the heart strings of grown-up baby boomer kids who remembered the originals. In an era when plastic parts replaced metal to save weight and costs, Johnny Lightning proudly featured a die-cast metal body and chassis. They even had an accelerator loop molded into the chassis. The new castings did not use original Topper tooling, they used paint rather than the multipart mirror finish (though some models were plated), and they rolled on conventional axles without bushings, but the style and feel were straight out of 1969. Even the packaging resembled the original '60s blistercard.

A sample of the Classic Gold line from 2002.
Some changes were made to enhance collectibility. Models now came with individually serialized plastic pogs, marking each model as a limited edition. (Later, as technology developed, serial numbers would be printed directly on the chassis.) Lowe also directed a quantity of "bonus" White Lightning chase-cars, a randomly inserted bonus in some cases, to be made and distributed—beating Mattel's "Treasure Hunt" concept to market—thus creating the chase-car market in the die-cast world. Johnny Lightning cars retailed for $2.99, as a premium product demanded premium pricing.
They were a hit. The revived Topper-era models were quickly followed up by a line of muscle cars, which blew up the Johnny Lightning name among the greater car-enthusiast community. Plymouth Superbirds, Hemi 'Cudas, Chevelle SSs, and Boss Mustangs, all painted in factory-appropriate colors, with correct stripes, and press-in Cragar SS-style mags that hid the ends of the crimped axles, drove grownup collectors wild. A collector's club was established, along with a quarterly newsletter, which offered "insider" news and previews of upcoming models in those pre-internet days. Special models given out exclusively at Toy Fair trade events were made available through the club newsletter, and other exclusive models followed. All of it was designed to give collectors a ready-made collectible die-cast car that spoke to their own nostalgic yearnings.
New series were developed. Dragsters USA, with vintage funny cars in correct livery. The Indianapolis 500 Champions Collection, which paired a race car and Indy Pace Car from the same year in a single package. The Tom Daniel-themed Wacky Winners. A Corvette series. Mustangs. Mopars. Street rods. Police cars. James Bond cars. VWs. A military series. Johnny Lightning models ran the gamut. Dozens of new models appeared every year, in an era when Hot Wheels was content to introduce one or two new castings per month.
In 2005, Lowe sold Playing Mantis to RC2 Corporation, which already owned Racing Champions die-cast (along with Ertl, plus the AMT model kit brand). RC2 was later renamed Learning Curve, which reflected its growing line of kid-oriented products, from baby baths to Thomas the Tank Engine toys; the Johnny Lightning brand continued for another half-dozen years, introducing controversial changes, including a switch to plastic chassis on new tools. In 2011, TakaraTomy, Japan's largest toy maker, purchased Learning Curve, and laid all of its die-cast brands to rest in 2013.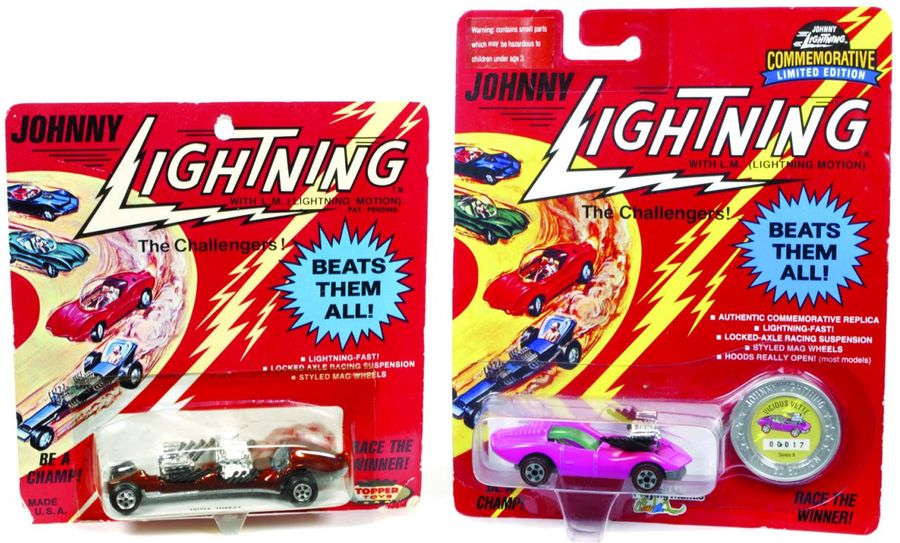 Original Topper-era Johnny Lightning packaging (left) and Playing Mantis' 1994 issue (right).
By then, Lowe had gotten back into the small-scale automobile world with his new company, Round 2, and had repurposed the long-moribund AutoWorld name (formerly a hobby-themed mail-order catalog) to market slot cars. Eventually, the world of 1/64-scale die-cast cars came calling, and beyond the eponymous line of die-cast cars, he also resurrected both the Johnny Lightning and Racing Champions brands. (Round 2 is also reissuing vintage AMT and MPC model kits through select hobby venues.) All of the tooling is still owned by TakaraTomy, but the trademarks belong to Lowe and Round 2. Models with the Johnny Lightning imprint have been appearing at stores and hobby shops nationwide since 2015. The new releases are triggering a wave of nostalgia for a brand that was already built on nostalgia; older releases are widely available on the secondary market. It's not every brand that can make collectors feel that way.
Original story published in Hemmings